My poor neglected blog. I'd gotten used to posting often and this week have been so busy…
What have I been doing?
Some of this:
Crocheting flowers to use in some upcoming jewelry projects.
And some of this:
So glad those pepper seeds finally sprouted!!!
Been
Tweeting
about these things:
The Bread Art Project
– $1 goes to Feeding America for every [virtual] piece of bread art you create.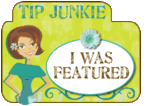 Excited to read about Etsy in
Wired
magazine.
Do you tweet?
Doing anything special for Earth Day? I thought I was the only one excited about planting seeds, but I've been giving away the packets I made for the
Earth Share project
(that I blogged about a few days ago) and people have been giving me great feedback when receiving them! I hope there will be beautiful flowers sprouting up in many gardens this summer.